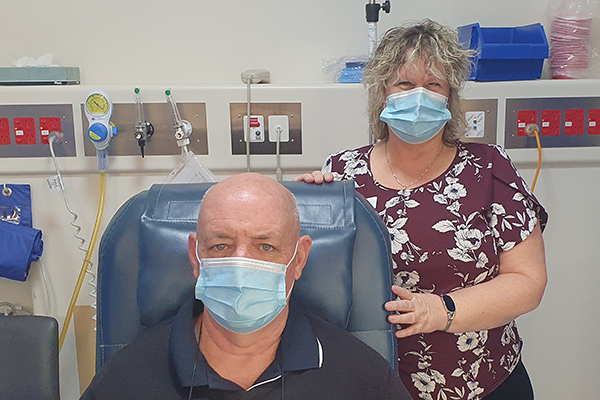 Gary Jean with the Infusion Centre's Nurse Unit Manager Sharon Ellis.
Peninsula Health patients with primary immune deficiencies now have access to a new therapy alternative, giving adults the opportunity to safely give themselves an infusion from the comfort of home.
Frankston Hospital Infusion Centre Nurse Unit Manager Sharon Ellis says consumers are taught how to treat themselves with a Subcutaneous Immunoglobulin infusions (SCIg), with a spring loaded syringe driver.
"Having access to this therapy will offer patients greater autonomy and flexibility to undergo their regular infusions at a time which suits them, improving their quality of life," says Sharon.
"We have around 20 to 30 patients who could benefit from the program, many of whom are coming into the health service every three or four weeks, under their current form of treatment."
The liquid part of blood, known as plasma, is used to make SCIg – a purified immunoglobulin which is slowly injected underneath the skin, ensuring there are enough antibodies in the body to fight against infection.
60-year-old Gary Jean lives in Blackburn but has been driving down to Frankston Hospital over many years for the treatment of a rare neurological disorder, known as chronic inflammatory demyelinating polyneuropathy (CIDP).
The avid golfer and semi-retiree is the first patient to make the transition to SCIg, learning how to choose an infusion site on his body, such as the lower abdomen or outer edge of the thigh, so he can reduce redness and swelling.
"This is a win-win for both the hospital and myself as patient," says Gary.
"I was coming in here every six weeks for my treatment, and I was coming in here for two half days, but now with this SCIg program I don't have to come in anymore."
"I can do this in the comfort of home, taking about 2 hours once a week. And I think for the hospital, it frees up a bed or a treatment chair for another patient, so I think this new program is just fantastic."
Gary passed on his thanks to the Infusion Centre nursing and support team for their outstanding care and treatment of his condition, over the last several years.
"It has been a real pleasure to have been under their care and I will miss them all," he says. 
Those who move onto Subcutaneous Immunoglobulin infusion therapy are provided with training, equipment and other consumables (such as syringes) at no cost to the patient.
For more information about how to gain access to SCIg treatment at Peninsula Health and to learn more about the Infusion Centre itself go to the Blood and Iron Infusions page or call (03) 9788 1710.