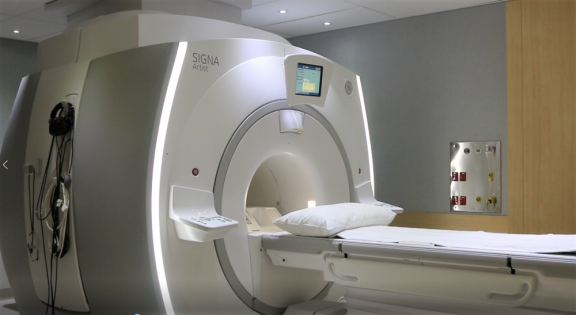 Frankston Hospital's new SIGNA Artist, a state-of-the-art MRI scanner
Peninsula Health has installed a new state-of-the-art MRI scanner, the first of its kind in a Victorian public hospital.
The scanner, a SIGNA Artist, features the latest in MRI technology. It will allow us to conduct around 4,000 more scans per year at Frankston Hospital and enhance patient care.
"We are developing world-leading healthcare here in Frankston and the Mornington Peninsula," says Peninsula Health Operations Director for Imaging and Pathology, Andrew Bickell.
"Our new scanner is faster and has the latest computing power. That means we can conduct quicker scans at a wider scope, and get better diagnostics."
Features of the new scanner
To date, Peninsula Health has conducted over 700 scans on the new machine since it began operating in July 2020. Its new and improved features include:
two dockable tables that help with faster and more comfortable patient transfers;
a tiltable head coil, allowing us to scan patients who are unable to lie flat (including elderly patients) and make them comfortable for the duration of the scan;
monitoring of patients' breathing during a scan, triggering scans to take images at particular times. This means patients do not need to hold their breath for abdominal scans, reducing the number of motion artefacts that blur images;
enhanced technology that enables us to:

conduct faster scans and correct for artefacts caused by motion. Through this, we can get diagnostic scans on paediatric and confused patients who would usually have to be sedated;
conduct specialised sequences to identify cholestetomas, measure liver volumes and analyse prostate tumours;

silent scanning, reducing noise which is much more comfortable for patients.
Overall, this technology allows for a greater number of difficult scans as we can now scan around patient breathing, more quickly, requiring less sedation than previously possible with our previous machine.
Our research and innovation partnership with GE Healthcare
Acquiring the scanner was made possible by our research and innovation partnership with GE Healthcare.
"We are pleased to support Peninsula Health in its endeavours to bring more personalised healthcare to patients through leading technology," says Matt Tucker, President and CEO of GE Healthcare Australia & New Zealand. 
On Peninsula Health being one of the first health services in Australia to offer GE Healthcare's AIR Technology to patients, Mr Tucker says: "AIR Technology coils are lighter and more flexible than conventional ones, helping improve patient comfort while delivering better image quality."
Peninsula Health's Radiology team was involved in the design and installation of the scanner.
For more information about Peninsula Health's Medical Imaging and Radiology services, please click here.
Watch the new MRI scanner be installed at Frankston Hospital
We were excited to receive delivery of the new MRI scanner back in May this year at Frankston Hospital.
Please enjoy this time-lapse video of the machine's installation.